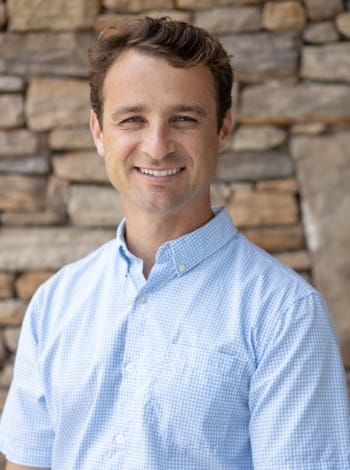 Dr. Robert Nason serves the families of Austin and Cedar Park, Texas at ENT Specialists of Austin. Dr. Nason is an ENT doctor with board certifications in otolaryngology and head and neck surgery and fellowship training in pediatric otolaryngology.
Dr. Nason graduated magna cum laude from Rice University before earning his medical degree from the University of Texas Medical Branch at Galveston. There, he won the Edward Randall Medal for Academic Excellence and was inducted into the Alpha Omega Alpha honor society.
After graduation, Dr. Nason served his internship and residency at the prestigious Washington University in Saint Louis, where he participated in NIH-funded medical research for three years. Dr. Nason went on to complete his pediatric otolaryngology fellowship at the University of California, San Diego. During his comprehensive educational training, he learned advanced techniques to treat adults and children.
Dr. Nason maintains memberships with the American Academy of Otolaryngology/Head and Neck Surgery and the Travis County Medical Society. He has published numerous journal articles, contributed to book chapters, and presented at national meetings.
Dr. Nason values his time with his wife and two children. He also enjoys playing ultimate frisbee, running, and playing tennis.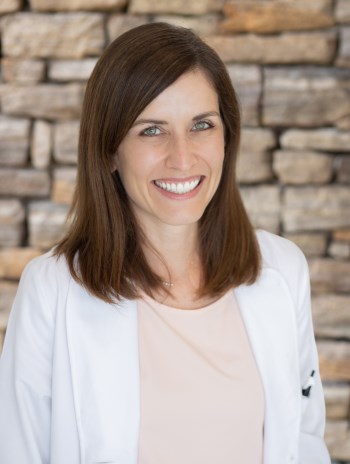 Dr. Lindsay E. Young is an otolaryngologist and board-certified head and neck surgeon at ENT Specialists of Austin. She is trained to treat both pediatric and adult patients and serves the local communities of Austin and Cedar Park, Texas.
Dr. Young grew up in San Antonio and attended college at Southern Methodist University, where she graduated summa cum laude with a major in anthropology and minors in music and pre-medical studies. She went on to medical school at UT Southwestern Medical Center in Dallas, where she was elected into Alpha Omega Alpha — the only nationally recognized honor society for medical students — and graduated in the top of her class.
She completed her general surgery internship at Parkland Hospital and her otolaryngology residency at UT Southwestern Medical Center in Dallas. In residency, Dr. Young was awarded the American Academy of Otolaryngology Resident Leadership Grant, she traveled to Honduras on a medical mission trip with Surgical Medical Assistance Relief Teams (S.M.A.R.T.), and she published multiple scientific articles in several peer-reviewed medical journals.
Dr. Young is a member of the Texas Medical Association, member of the Travis County Medical Society, member of the American Academy of Otolaryngology/Head and Neck Surgery, and served as President of the Austin Society of Otolaryngology from 2016-2018. She has a special interest in thyroid and salivary gland surgery, head and neck cancer, chronic sinusitis, functional and cosmetic nasal surgery (rhinoplasty), hearing and ear surgery, and voice complaints.
In her spare time, Dr. Young enjoys time outside of work with her husband, her son and daughter, and their dog, Mr. Pickles, a rescued mixed breed. She also enjoys live music and performing arts, traveling with her family, spending time with friends, and sprint triathalons.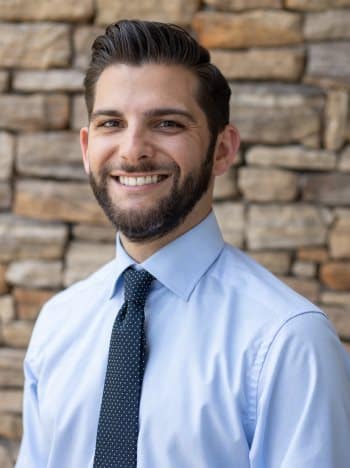 Dr. Kevin Taheri, MD is a board certified Ear, Nose and Throat physician who attended the University of Texas at Austin, graduating with University Honors. He continued his studies at Tulane University, earning a graduate degree in pharmacology. His medical training was at the University of Texas Medical School at Houston, in the Texas Medical Center where he completed research at MD Anderson. He completed residency in Otolaryngology – Head and Neck Surgery at Louisiana State University Health Sciences Center in New Orleans, with extensive training in sinus, allergy, and pediatrics. He is excited to return to Austin with ENT Specialists of Austin.
Dr. Taheri has presented at both local and national conferences including research on the role of methicillin-resistant Staph aureus (MRSA) in pediatric neck infections and a novel technique for minimally invasive balloon opening of the nasolacrimal (tear) duct. He was also a resident research and Triological Society award winner for developing a new method for non-surgical repair of eardrum perforations.
Dr. Taheri believes in providing the best possible Ear, Nose, Throat and Allergy care through personalized treatment plans tailored to each patient. He endeavors to find minimally invasive and long lasting solutions for his patients. He treats the full spectrum of Ear, Nose, Throat and Allergy disorders, with a focus on adult and pediatric sinus, nasal and allergy disorders. This includes balloon sinuplasty, a minimally invasive procedure performed in the office to provide lasting sinus relief from sinus infections. He provides comprehensive allergy management for those suffering from central Texas allergies. Dr. Taheri takes a thorough and precise approach to his consultations to ensure that he is consistently giving accurate diagnoses. He is passionate about treating children, is on staff at Dell Children's Medical Center and St David's Children's Hospital.
When not practicing medicine, Dr. Taheri can be found enjoying Longhorn sports and exploring the many parks and restaurants in the city with his wife, Karen and two children: George and Isla.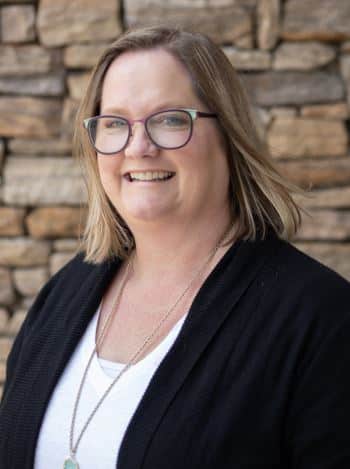 Tracy joined the practice in 2018. She has extensive experience in the field of Audiology. Tracy received her Master's Degree in Audiology from the University of Texas in 1992. Throughout her career, she has worked extensively in the areas of aural rehabilitation, amplification services, diagnostic testing, vestibular evaluation, tinnitus management, cochlear implants, and bone-anchored auditory prosthetic devices. Tracy has taught hearing loss coping skills classes to the community, she has served as the American Tinnitus Association's San Antonio representative, and she has been a guest speaker at many SHHH (Self Help for Hard of Hearing) meetings.
Developing a personal relationship with her patients is what Tracy enjoys the most about working as an audiologist, and she works hard to take the time to understand each individual patient's communication needs and challenges. Tracy works with the latest hearing aid technology and multiple manufacturers to make sure that each patient has the best hearing aids possible for them.
Tracy enjoys hiking and traveling with her twins, Jeb and Sadie. She is an active volunteer in their school, having recently served as the president of her daughter's high school dance team. Tracy dedicates much of her spare time to volunteering: she currently serves on the RRISD Bond Oversight Committee, she has volunteered as a master naturalist where she spent time recording the habitats of salamanders, and she often finds herself agreeing to foster puppies through Austin Pets Alive.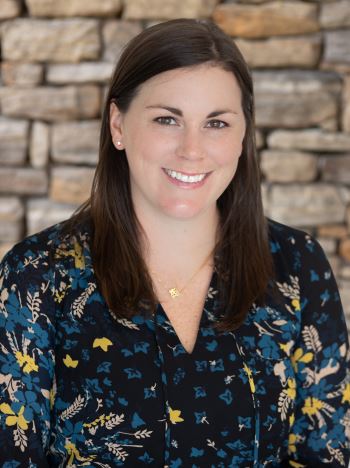 Brandee joined the practice in 2018. She received her Bachelor of Arts in Communication Disorders from Louisiana State University in 2011 and her Doctor of Audiology from Louisiana Tech University in 2015. She is certified by the American Speech Language Hearing Association and licensed in Texas to practice Audiology. She provides comprehensive audiological services including diagnostic hearing evaluations, hearing aid consultations, hearing aid services, and custom hearing protection.
Driven by the philosophy that communication is fundamental to living a fulfilled life, Dr. Richardson is committed to helping the hearing impaired overcome communication barriers. She has experience working with the latest technology of the top hearing aid manufacturers to make sounds and conversations more accessible to the hearing impaired.
Dr. Richardson is from Louisiana. She moved to Austin three years ago. She enjoys trying new restaurants, playing tennis, hiking the greenbelt, and exploring all that Austin has to offer.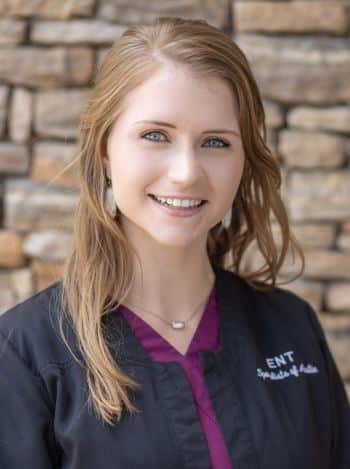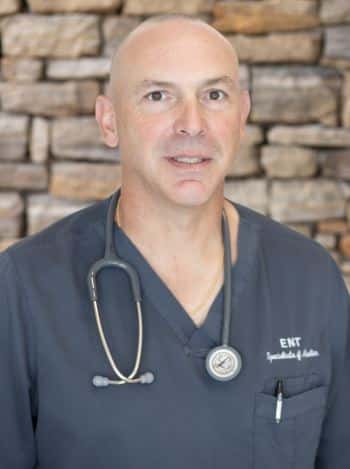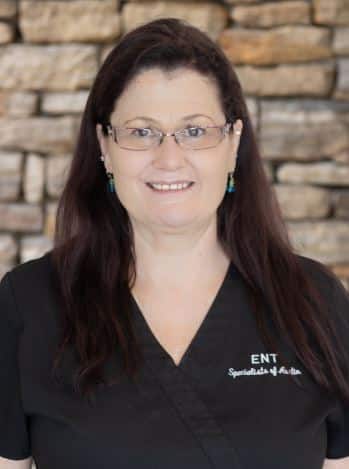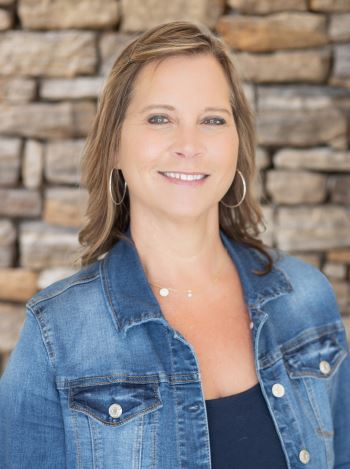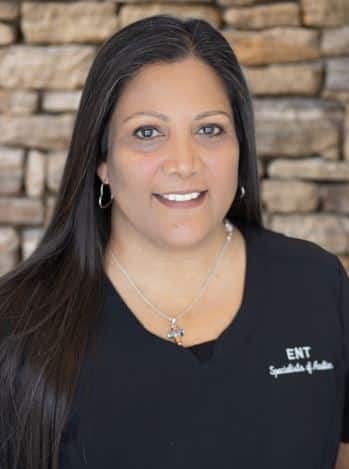 Becky (Benefits Coordinator)